We all dream of finding a long-lost Picasso or exotic treasure in a dusty old attic or at a garage sale, but few of us are ever so lucky. These five people, though, all came across vintage jewelry that, according to antique jewelry appraisers, turned out to be worth a fortune!
1864 Victorian Brooch
Jill Cousins was tuning in as Geoffrey Munn, the jewelry expert for Antiques Roadshow, was talking about describing his list of 'most wanted' items. He had watercolor paintings by the architect of Cardiff Castle showing six brooches, which may never even have been made. When Cousins saw the sketches, she raced to her jewelry box and took out the broken silver brooch that had been given to her mother by an old elementary school teacher more than forty years before. When it matched the sketches, antique jewelry appraisers estimated that it could be worth $18,500; it later sold at an auction for over $50K.
Vaneisha Robinson spent $5 on what she thought was a piece of costume jewelry: a LeBron James jersey-shaped pendant with 'King' on the front and 'James' on the back. She eventually had it appraised, and found out that those diamonds were real. Made of 14-karat white gold, the pendant has more than 2 carats of diamonds. Unfortunately, after James' manager and associate claimed that the pendant had been stolen a few years ago, Robinson found herself in the middle of a police investigation as a suspect for receiving stolen property. The pendant is currently in police custody.
Alexander Calder is best-known for his kinetic sculptures and mobiles, but he also created about 1,800 pieces of jewelry during his career. One woman bought a bold, 'tribal-looking' necklace for $15 at a flea market in Brooklyn, and was shocked to discover that antique jewelry appraisers believed it was a Calder creation, valued at more than $200,000. The lucky lady sold it in 2013 for a whopping $267,750.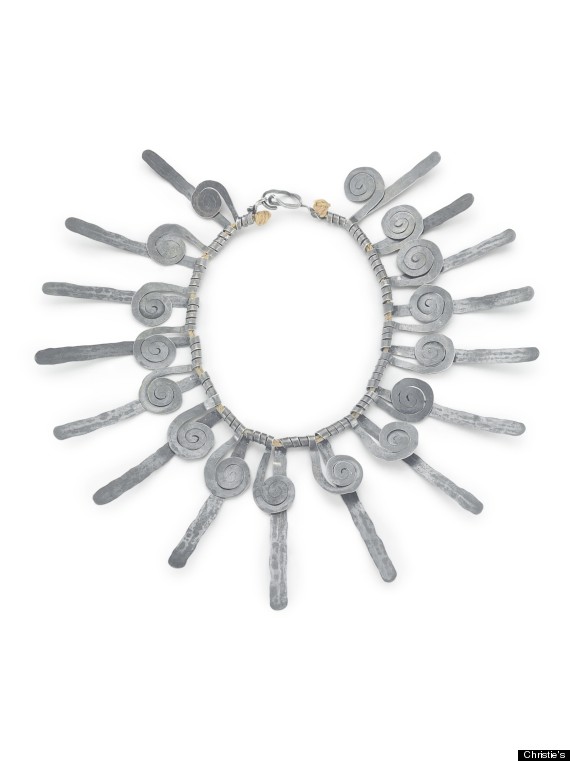 James Bond's Watch
One man found the ultimate piece of movie memorabilia at a car boot sale, the UK's version of a yard sale. He spent £25, about $50, on what is, in true James Bond fashion, a very cool watch. When he took it to an appraiser, it turned out to be a long-lost prop from the 1965 movie Thunderball. This one-of-a-kind piece was made by Breitling in 1962, and has the distinction of being the first modified gadget watch issued to James Bond (and the only gadget watch worn by Sean Connery). It sold at a Christie's auction for over $175,000.
One of the World's Largest Natural Pearls
When a couple brought in a pair of pearl drop earrings to be analyzed and appraised, the experts at Woolley and Wallis auctioneers noticed that one of the pearls seemed a bit more solid than the other. X-rays showed that while one pearl was cultured and therefore less valuable, the other pearl was produced by a gold lip oyster. (Learn more about the difference between cultured and natural pearls here [insert link to blog]) This whopping 33.14 carat round pearl was the largest of its type to ever go up for auction, and sold for over $1M.
Do you have a great estate piece? Wonder what it's worth? Check back later this week as we identify ways for you to understand the value of estate jewelry.
Related Posts
Jewelry Insurance Demystified | How Much Is my Estate Jewelry Worth | A Girl's Guide To Pearls | Top-10 Outrageously Expensive Celebrity Jewelry and Watches | Traditional and Modern Anniversary Gifts